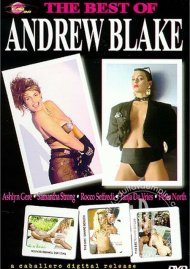 View Back
Best of Andrew Blake, The
- On Sale!
3 out of 5
3Film
3Features
3Video
3Audio
Nice bodies, but intercoarse scenes were too long and became boring.
By:
PB
Customer Review - Jun 24 2009
Extremely erotic bodies, but intercoarse scenes in the same positions were too long and drawn out. Too many facial cum shots.
4.75 out of 5
5Film
5Features
5Video
4Audio
Incredible Sex!
By:
JRuss
Customer Review - Aug 04 2002
This compilation from several of Blake's films features some of the most incredible sex scenes I've ever seen filmed! From the beginning to the end, the scenes are nicely filmed, the sex very graphic with deep penetration, nice oral and explosive orgasms. The girls seem to enjoy displaying their beautiful bodies. A great fantasy film!