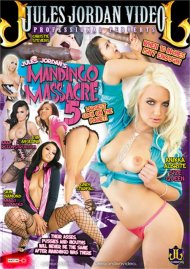 View Back
Mandingo Massacre 5
- On Sale!
4.75 out of 5
5Film
4Features
5Video
5Audio
Excellent chapter 5 in an excellent series
By:
Bennyboy
Customer Review - Aug 04 2012
The fifth installment of JJ's Mandingo Massacre series is as flawless as the others. All the women are energetic performers but with Annika Albright stealing the show. Her curves, looks and facial expressions are flawless as one of the newest and best booty girls to hit the scene of late. Those legs are to die for as well. Not Annika's best scene however as her scene with Jack Napier for Bangbros.com is probably her best scene on film. Recapping again, all the scenes are well performed and the movies does not disappoint. No trailers is the only down point to the bonus features if that even matters at all.