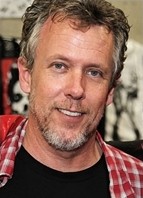 Tom Byron
About Tom Byron
Height: 6 ft. 0 in.
Weight: 184
From: Houston, Texas
Born: April 4
Zodiac Sign: Aries
Tom Byron's Porn Star Biography
When Byron first started acting in hardcore films in May 1982, he played mostly the young schoolboy or "coming of age" roles due to the fact that he looked like a teenager, even though he was in his early to mid 20s. He starred alongside Traci Lords in many movies including her first one in early 1984, What Gets Me Hot!. He was also known to have had an ongoing off-screen relationship with Lords.
The Chameleon of Porn
Byron has changed his image several times throughout his career, going from clean-shaven adolescent to a hard rocker look. Later in his career, he took on the appearance of a clean cut "businessman." His late 1980s long-haired hard rock persona was no pretense, as Byron was at that time moonlighting as a struggling musician in Los Angeles with hopes of a career in music. His sexuality has always been something he played with as well, a fact that is punctuated by his having confirmed the authenticity of a series of pictures which depict him performing oral sex on a transsexual.
Acting and Directing Credits
In August of 2002, Byron announced his retirement from performing to focus on his directing career, but in the fall of 2005, after just three years, he returned to performing in numerous scenes, most notably his House of Ass series for his own company, Evolution Erotica. Byron has also performed for other production companies as well, including Zero Tolerance, Pure Play Media, Vivid, Evil Angel, and many more. Over the course of his long career, Byron has appeared in more than 3000 titles, an astonishing number! Byron has directed over 70 films, his most notable being the Cumback Pussy series for Elegant Angel. Along with fellow directors Van Damage and Rob Black, and performer Tiffany Mynx, Byron left Elegant Angel in 1998 to form a new company, Extreme Associates.
Porn Awards
1984 CAFA Best Actor for Private Teacher
1984 CAFA Best Supporting Actor for Sister Dearest
1985 AVN Best Couples Sex Scene - Film for Kinky Business
1985 XRCO Stud of the Year
1985 XRCO Video Stallion
1990 AVN Best Couples Sex Scene - Video for The Chameleon
1991 F.O.X.E Male Fan Favorite
1992 AVN Best Actor - Video for Sizzle
1992 F.O.X.E Male Fan Favorite
1996 XRCO Best Actor (Single Performance) for Flesh
1996 XRCO Best Anal or DP Scene for Car Wash Angels
1997 XRCO Best Actor for Indigo Delta
1997 XRCO Best Anal Scene for Behind the Sphinc Door
1997 XRCO Male Performer of the Year
1998 AVN Best Actor - Video for Indigo Delta
1998 AVN Best Gonzo Series for Cumback Pussy
1998 AVN Male Performer of the Year
1998 XRCO Best Gonzo Series for Whack Attack
1999 AVN Male Performer of the Year
1999 F.O.X.E Male Fan Favorite
2000 AVN Best Supporting Actor
2008 AVN Best Actor - Film for Layout
2008 AVN Best Couples Sex Scene - Film for Layout
2010 AVN Award Best Supporting Actor - Throat: A Cautionary Tale
2010 XBIZ Award - PEOPLEs CHOICE - Male Porn Star of the Year
2017 XBIZ Best Non-Sex PerformanceNot Traci Lords XXX: '80s Superstars Reborn (X-Play/Pulse)
AVN Hall of Fame member.
Tom Byron's Awards
Award
Year
Best Actor - Video
AVN
1998
Best Anal or D.P.
XRCO
1998
Male Performer Of The Year
XRCO
1998
Single Performance Actor
XRCO
1998
Best Actor - Film
AVN
2008
Best Couples Sex Scene - Film
AVN
2008
Best Supporting Actor
AVN
2010
Best Actor
AVN
2011
Best Supporting Actor
AVN
2013
Best Non-Sex Acting Performance
XBIZ
2017