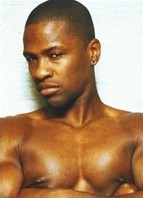 Justin Slayer
About Justin Slayer
Height: 6 ft. 0 in.
Eyes: Brown Eyes
Born: September 10
Zodiac Sign: Virgo
Justin Slayer was born in Los Angeles, California, on September 7, 1972 and is an African American male porn performer and director.
Slayer's career in porn started during his college days, where he was heavily involved in the underground swinger scene, throwing sex parties that became very popular. It was at one of these parties that he met Diana Devoe and her then-husband Alex. During their discussion, she planted a seed of the notion that Slayer should try performing in videos. At the time, he was working as a personal trainer and winning bodybuilding competitions - he had placed ninth in the World Natural Championships.
At a private orgy, porn star Aria was impressed by Slayer's sexual prowess and stamina and invited him to do a boy/girl photo spread for Penthouse magazine with photographer Tony Ward. This led to his screen debut in a gangland scene for Anabolic Video in 2001.
Slayer teamed with New York partner under the name Buck Brothers Films. He shot some scenes in Costa Rica, directed and distributed the four-volume series Who's Pussy Is This. Meanwhile, Diana Devoe was a West-Coast producer and convinced Slayer to work there by performing many group sessions in flicks like Black Craving 9. This led to a contract gig with West-Coast. Then going independent he produced the series Freshly Slayed. Soon afterwards he moved to Exquisite Multimedia and started Slayer Unleashed, the Phatty Girls and Black Pipe Layers series and Big Butt Brotha Lovers which caught the eye of John Stagliano.
In 2004, Slayer joined the elite ranks of Evil Angel directors and has since produced such infamous and top selling works as Mami Culo Grande, Big Booty White Girls and Black Orientations, and continued two of his most successful series, Phatty Girls and Black Pipe Layers.
In 2004 and 2005, Justin had his two most high profile scenes to date in Phatty Girls, Volumes #4 and #5 respectively as he did scenes with long time favorites Janet Jacme and his former mentor Diana Devoe. Both scenes (particularly his scene with Diana) are considered some of Slayer's best work ever.
At the 2007 Adult Video News Awards, Justin Slayer won two awards for Best Ethnic Series - Latin for the "Mami Culo Grande" series and Best Ethnic Series - Black for the "Phatty Girls" series solidifying him as the top director of Ethnic produced porn.
At the 2009 AVN awards the Justin Slayer International film Mami Culo Grande 6 won 'Best Ethnic-Themed Release - Latin'.
In 2009, Slayer won the Urban X Award for Best Director Gonzo.