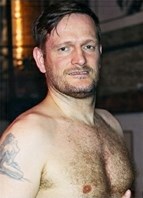 Ian Scott
Alias: Yanick Shaft, Yannick Shaft, Ian Stone, Yannik, Jan Scott
About Ian Scott
Height: 6 ft. 1 in.
Weight: 165
From: Toulouse, France
Born: February 6
Zodiac Sign: Aquarius
Ian Scott's Porn Star Biography
French pornstar Ian Scott began his career in XXX movies in 1996. A handsome man of 23 years, Scott had little trouble breaking into the industry, first appearing in a film by Patrice Cabanel. He started going on multiple shoots in France and Italy, working with the likes of John B. Root and Marc Dorcel. But it was in 2000 when his career really began to take off, turning him into the most well known French actor in the industry.
Career
In 2000, Scott played the difficult role of a ravisher in the controversial film "Baise-moi" by Virginie Despentes. 2000 was also the first time he was directed by Fred Coppula in "Niquers-nes." He then appeared in "Max, portrait d'un serial niqueur," a fake documentary in which he plays the lead role. The next year he wrote and directed "Max 2" and in 2007, "Max 3." Scott began working regularly in American productions in 2001 and has worked with some of the biggest studios, including Wicked Pictures, Hustler Video, New Sensations, and many more.
A Formidable Costar
Scott is known for his impressive member, measuring in at a whopping 10 inches. He is also particularly known for not having proximity issues on set; not only does he regularly participate in double penetrations, but he has no problem being involved in same hole double penetrations, unlike many of his fellow male costars. His versatility as an actor and ability to work under what some would call uncomfortable conditions has helped Scott to become a much sought after actor.
Conclusion
Having appeared in more than 700 adult movies and directed 5 films, Ian Scott is no stranger to hard work and is dedicated to his career. When he's not performing or behind the camera working, Scott participates in triathlons and downhill mountain bike races. As of 2015, Scott is still very much active in the industry and has plans to both perform and direct more movies in the near future.
Awards and Nominations
2001 Hot d'Or Award winner Best European Actor
2009 AVN Award nominee Best Sex Scene in a Foreign Shot ProductionCherry Jul's Extreme Gangbang Party
2009 AVN Award nominee Best Double Penetration Sex SceneThe Jenny Hendrix Anal Experience
Ian Scott's Awards
Award
Year
Best Sex Scene in a Foreign-Shot Production
AVN
2012