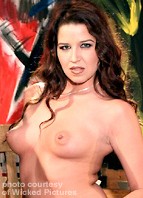 Kelli Tyler
Alias: Kelly Tyler, Kelly Taylor, Kathy
About Kelli Tyler
Height: 5 ft. 7 in.
Weight: 117
Measurements: 34B - 28" - 34"
Eyes: Hazel Eyes
Born: April 1
Zodiac Sign: Aries
Kelli Tyler is a fresh looking natural bodied starlet that likes her partners cum either on her face or in her pussy, just to squeeze it out. The Utah native does not perform anal scenes. In Internal Cumbustion she is the only star that doesn't perform anal. Yet, in that "excellent scene" she give Nacho Vidal a playful "don't even think about it look" after he gives her a very pleasurable rim job as a way to try to sway her over to the anal side. This only adds to the intensity of the scene that ends with Kelli teasing the camera with letting go of her cream pie.
The Natural breasted beauty has garnered many excellent reviews in her career so far.
In Cream Pie Cuties - is the "best looking girl on the disc..." and "This was my favorite scene on the disc."
Round Butt Sluts 4 - "While she did not do anal or a DP, she was otherwise extremely skilled in the art of milking a nut."
Housewife Bangers 8 - "I like how her ass bounces on his rod. She still looks amazing. This is the best scene in the movie."