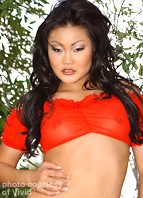 Lucy Lee
Alias: Laura, Luci Lee, Lucy Leem
About Lucy Lee
Height: 5 ft. 5 in.
Weight: 110
Eyes: Brown Eyes
From: Torrance, California
Born: May 20
Zodiac Sign: Taurus
Lucy Lee, AKA Laura Thompson, was born in South Korea. She was orphaned as an and was quickly adopted by an American couple who brought her to the U.S. and raised her in Torrance, California. Lucy was always curious about sex, and had her first sexual encounter as a sophomore at West High School; her first sexual experience was also her first experience with a woman. When asked about it, Lucy said, ""I think that was 10th grade. She was a friend of mine, and one day, we just got it on." When asked about her first sexual experience with a man, Lucy said, "I was 16. I was , and we were at like a high school party in a house by the beach. I don't remember much about it except that it wasn't the best sex I've had."
After graduating High School, Lucy worked some ordinary jobs like The GAP and Jamba Juice before becoming a stripper. She worked at the Body Shop strip and S&M club in West Hollywood for a while where she met legendary director Vince Vouyer. Vouyer took a liking to Lucy and told her she'd make more money behind a camera than on stage. Lucy took him up on his offer and has never looked back.
Lucy started filming in 2003, performing in her first movie, "Cum Drippers #4", by Red Light District. At one point Lucy was also a TeraVision's contract girl. Lucy has performed in well over 180 titles, and enjoys doing photo shoots and feature dancing for her fans. Some other stellar performances from the lovely Lucy Lee include her part in "Explore My Backdoor" where she gets double penetrated, "Girls Home Alone 20" where she pleasures herself thoroughly, and "Teradise Island 2" where she teams up with Brittney Skye for a red-hot three-way!