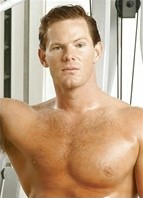 Frank Towers
Alias: Mark Slade, Doug Shepherd, Drago, Johan
About Frank Towers
Height: 6 ft. 4 in.
Weight: 239
Born: September 25
Zodiac Sign: Libra
Frank Towers, also known as Mark Slade and Ted Hunter was born on September 25 1968 and is a popular porn star from the United States. Frank Towers/Mark Slade got his start originally in the heterosexual porn industry.
In 1998, he made his first gay film appearance with a solo masturbation scene in Billy 2000 under the name Mark Slade. He then went on to sign an exclusive contract with Studio 2000 and starred in West Hollywood Hope in 1998. He followed that with Cadet. He also appeared in the big-budget bisexual videos Semper Bi and Bi American.
He currently performs in pornographic videos aimed at the heterosexual market under the name Ted Hunter. According to his profile at the Internet Adult Film Database (IAFD), he has appeared in more than 300 films. As Frank Towers, he has formed his own production company, "Frank Towers Productions", and directed that company's 2004 release, Nasty Tales.