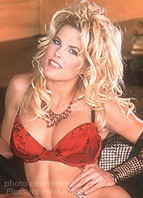 Sunset Thomas
About Sunset Thomas
Measurements: 36D - 24" - 36"
Eyes: Blue Eyes
Born: February 19
Zodiac Sign: Pisces
Straight from the pages of Penthouse Magazine, Sunset Thomas is a true adult superstar. This Texas-bred philly has always wowed audiences with her lusty performances and passionate moans. Sunset loves pussy as much as dick, and she is one of the most popular performers who do not make a ton of videos. Sunset can be seen in Sunset's Anal & D.P. Gangband and also in Caribbean Sunset.
Sunset Thomas Porn Star Biography
With over a 100 videos to her name, Sunset Thomas made her debut in the adult industry to much acclaim in 1991. She enjoyed a wonderful career working for many different producers in several genres.
Early Life
Born in Sikeston, Missouri as one of 11 children, Thomas moved around often in her youth with her family, living in various states including Virginia, Georgia, Texas, and Tennessee. She spent her teenage years in Daytona Beach, Florida. In Florida she became something of a wild child, sacrificing school and books for sunning and bikinis on the Florida beaches.
After high school, she moved to Ft. Lauderdale, Florida, where she performed a variety of jobs, among them, modeling along side the championship trophy after the annual NASCAR race held in Ft. Lauderdale. While there, she met aspiring porn actor Zachary Adams. Zach and Sunset became friends quickly, and their friendship soon turned into love. Five months later, they got married and moved to Los Angeles, where both of them would find porn film fame, using the last name Thomas.
Porn Career and Mainstream Work
She shot her first adult film when she was eighteen, appearing in Mr. Peeper's 25th Anniversary alongside her husband and another man. But she soon became a professional porn star and a favorite of director Michael Ninn, winner of the most Adult Video News awards, who made her the star of his epics Latex, Shock, Sex, and Sex 2.
Thomas had separated from her husband by the end of 2001 and, in 2002, established a friendship with talk-show host Howard Stern. That same year, she moved to Carson City, Nevada to work at the famed Moonlite Bunny Ranch brothel. She and Stern filmed the first of Stern's shows on February 21, 2002, and she has returned more than ten times since then. She was also featured on The O'Reilly Factor during that time. 2002 also saw Thomas speaking publicly about her sex life in an HBO documentary entitled Cathouse, and in 2003, she appeared in its sequel. She spoke about her specific sexual needs in a rather graphic and open way, stating that she needs sex constantly. In later episodes, we learn that she left the Bunny Ranch to go to the Kit Kat Ranch. She has since opened strip clubs in Nevada and Arizona.
In 2005, Thomas was featured in the documentary Pornstar Pets and made an appearance on Maury, in which she encountered a crush from her middle school days. The episode was titled 'I Was An Ugly Teen... Now I'm a Hot, Sexy 10!'
In 2006, Thomas obtained her own show on KSEX radio called 'Sunset After Sunset' which airs every Thursday at 9:00pm (PST). In 2007, she appeared on the Montel Williams Show with her fiance/boyfriend, Kent, to discuss her porn career and being a mother.
In June 2007, Thomas signed on with Vavoom Media. Thomas has a reality tv show in production (Sunrise to Sunset) and a radio show (The XXXtra Point). Vavoom Films is producing her final film (Into the Sunset) and Larry Flynt Productions is distributing the film. It's notable not only because it's Thomas' final XXX film but because she selected a fan to star alongside her in her final on-screen sex scene.
On January 16, 2008, she appeared on the Tyra Banks Show with her husband, Kent, to discuss her sex addiction and desire to make one final adult film, despite promising him that she would discontinue her adult career after their marriage.
Interesting Facts
Thomas is the aunt of porn star Sunrise Adams. During a visit, Sunset convinced Adams to begin a career in adult films.
Awards
2001 AVN Hall of Fame
2010 XRCO Hall of Fame