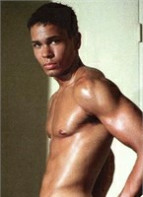 Jake Steed
About Jake Steed
Born: August 27
Zodiac Sign: Virgo
Jake Steed Porn Star Biography
Jake Steed began his career in the adult film industry in 1989. There isn't much information about how he truly came to begin working in pornography. He's known mainly by his large curved penis, as well as his powerful ejaculations which have been described as sometimes closely rivaling Peter North, specifically in terms of distance. With these particular skills in mind, he was recruited by Ed Powers who he worked for in Powers' Dirty Debutantes and Exotica Erotica series.
Career
With the help of Ed Powers, Jake Steed realized the full extent of potential of his career. He performed in both the Dirty Debutantes and Exotica Erotica series, which aspiring adult film actresses are interviewed and perform for the first time on camera. It wasn't long before Jake Steed was behind the camera himself, directing his own films. Two of his series became wildly popular, Chillin' With Freaks, Whores and Flows, and Little White Chicks, Big Black Monsters Dicks; the former features a full length rap verse that Steed performs before the start of each movie, a precursor to a format that performer Brian Pumper would later use, whereas the latter was an outrageous brainchild in which Jake and the well-endowed likes of Mandingo, Lexington Steele, et. al. would go on a "hunt" for small women.
Random and Dirty Facts
Leanni Lei extolled in Pick Up Lines 45 that Steed's semen is "seriously sweet. I'd actually swallow this!" In 2001, Jake was featured on Dr. Dre's album The Chronic (2001).
Hall of Famer
In 2001, X-Rated Critics Organization (XRCO) held their 17th annual where Jake Steed was honored and inducted into the XRCO Hall of Fame, noting his long-standing career of 12 years within the adult film industry, making him the youngest male to ever been inducted into the XRCO Hall of Fame.
Jake Steed's Awards
Award
Year
XRCO Hall of Fame Inductees
XRCO
2001