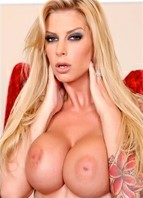 Brooke Banner
Alias: Brooke, Brooke Banner, Brooke Brand , Brooke Banner, Brooke Biggs, Lindsay Brooke
About Brooke Banner
Height: 5 ft. 8 in.
Weight: 121
Measurements: 34DD - 26" - 34"
Eyes: Blue Eyes
From: Gainesville, Florida
Born: September 28
Zodiac Sign: Libra
I was born in Gainesville, Florida September 28, 1983. Grew up in a great small country bumpkin town. Lived on a horse farm and on a softball field, my two passions in life. Which have of course changed with the move to California when I was 17.
My porn career started in '02 all because of a little black and white ad I found in the classified section of the LA Times. It read: Come make 15k - 25k/ month be a gorgeous model and of course in really small black print read: NUDE. I thought ok, maybe I should just go check it out. I drive down to Van Nuys walk up a scummy hallway of stairs to an office with 3 men sitting at their desks. I walk in say Hi and they tell me to get naked and that they wanted to take some Polaroids of me. A little shell-shocked I do as they ask. We talk for a brief moment after. I grab take Jim South's card of his desk and head home. Home being my parents home which made me feel a little uneasy of my latest adventure.
Next thing you know I am shooting my first on-screen appearance for Debbie Does Dallas, a Vivid production, and my career has lift off. I have always preached to stay natural and as some of you might know I recently crossed over to the plastic side. LOL I got my beautiful first boob job Jan 9, 2009 and have revamped my career. I plan to do a lot in these next few years and I really hope my fans that I have had and my new fans I get really enjoy taking this journey with me.
Biography Text © bbannerxxxblog.com