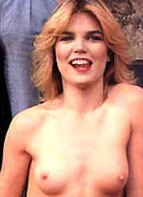 Stacey Donovan
About Stacey Donovan
Stacey Donovan started out doing TV commercials for Swatch and was once a covergirl for magazine. Told by some that she was "too pretty for porn", Donovan ignored the advice and started doing non-sex light bondage movies before graduating to hardcore adult films in the 1983 release Bouncing Buns.

With her super model looks and exuberant sexuality, Stacey would go on to work with some of the top directors of the day landing roles in Henri Pachard's "White Women" and Cecil Howard's epic The Last X-Rated Movie, one of the last movies in which she performed.

Stacey Donovan was eventually "black-balled" from the adult industry after it was discovered she was working with the Meese commisson. In a twist of irony, she also starred in 1986s "Convenience Store Girls", a movie made directly in protest to the Meese Commission report.