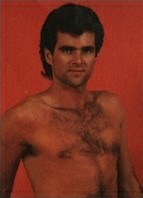 Jon Dough
Alias: John Dough
About Jon Dough
Born: November 12
Zodiac Sign: Scorpio
Porn Star Biography for Jon Dough
Jon Dough is a hall of fame porn star and director and during his time, was seen as one of the most popular male performers in porn. Jon was known for his rugged good looks, soft-spoken demeanor and intense sexual prowess. Jon graduated from Albright College in Pennsylvania with a bachelor's degree in Biology. After graduating from Albright, Jon made the move to Los Angeles, where he attempted to become a mainstream TV actor. Dough eventually took a job at a photo shoot with Hustler, which helped introduce him to the adult film industry.
Career
Jon's overall career spanned over 20 years from 1985 - 2006. Dough was featured in well over 1200 adult films and as a director he directed around 70 titles. Dough worked for some of the most popular studios like Red Light District, Hustler, Devil's Films, Vivid, Zero Tolerance, Wicked Pictures and Anabolic Video among many others. One of Jon's most memorable titles was 1997's The World's Luckiest Man. In the film, Jon has sex with 101 women. The film was shot over a three-day period and garnered a lot of attention. Another fan-favorite scene was in 2000's Wet Dreams 7 where Jon performed in a lusty scene with Bridgette Kerkove.
Personal Life
It's widely assumed that the character "Johnny Doe" in the film Boogie Nights was loosely based on Jon Dough.

At one time Dough was married to fellow adult film star Deidre Holland. After a divorce, Jon remarried adult starlet Monique DeMoan.
Awards
1991 XRCO Award -
Best Supporting Actor - Brandy & Alexander
1992 AVN Award -
Best Supporting Actor - Film for Brandy & Alexander
1993 XRCO Award -
Best Actor (Single Performance) for New Wave Hookers 3
1994 XRCO Award -
Male Performer of the Year
1995 AVN Award -
Male Performer of the Year
1995 AVN Award -
Best Supporting Actor - Film for Sex
1995 XRCO Award -
Best Actor (Single Performance) for Latex
1996 AVN Award -
Best Actor - Video for Latex
1997 AVN Award -
Best Actor - Video for ShockAVN Hall of Fame InducteeXRCO Hall of Fame
Jon Dough's Awards
Award
Year
Best Actor - Video
AVN
1996
Best Actor - Video
AVN
1997