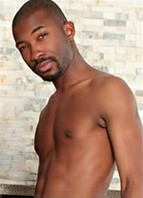 Tee Reel
Alias: T Reel, T. Real
About Tee Reel
Height: 5 ft. 6 in.
Weight: 151
Born: June 13
Zodiac Sign: Gemini
Tee Reel
Tee Reel, sometimes also known as Treal or Tee Real, is a porn performer and director who got his start in adult entertainment at the age of 23 in 2003. In 2004 he became the youngest African-American male performer to work with porn stars from every major continent.
Tee started out as a music video director for such Hip Hop acts as The Drum Major's and 2 Live Crew. As a music video director he met several adult film stars while working and was persuaded to give performing a shot. He soon became one of the top new male performers in 2003. He has worked in such mainstream movies as Save the Last Dance and Barbershop
In 2003 Tee signed an exclusive performing contract with Redlight District Video and has since performed in over 500 films and was named by Adult Video News Magazine as one of the up incoming performers to watch. In 2004 Tee started his own production company T-Real Ent. Tee's first film Real Interracial was nominated for a 2007 AVN Award. Tee works and lives in Los Angeles.