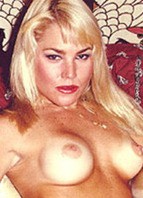 Laurel Canyon
Alias: Lauryl Canyon, Julie A. Stafford, Julie A. Czeschi
About Laurel Canyon
Height: 5 ft. 4 in.
Measurements: 34C - 22" - 34"
Eyes: Blue Eyes
Born: August 13
Zodiac Sign: Leo
Lauryl Canyon (Laury Canyon, Laurl Canyon, Laurel Cayn, Laurel Canyon, Suzi Q, Mandii, Devon Delight, Devin Delight, Judy Shine, Julie Shine, Judy Taylor) hails from Pomona, California and originally got started in the adult industry in 1987. Lauryl abruptly retired in 2 years later, only to make a successful return to the industry in the early nineties, until she retired again in 2005. Lauryl got into the business after reading an ad in a newspaper for a nude modeling ad. Lauryl met Jim South and things immediately took off from there. Lauryl only planned to do make adult movies as a part - time job, but Lauryl fell in love with it and was truly turned on by the whole experience. When it was all said and done, Lauryl was featured in 163 adult movie titles.
Originally, Lauryl Canyon's 5'5 frame was home to a fit and taught youthful body -- small breasts and hips and small waist. Later on in her career, she added a pair of large implants, giving in to the prevailing trend among porn starlets. Lauryl Canyon was on the fast track to being a legitimate porn superstar when she abruptly left the business, having worked her way up from small bit parts to full-bore box-cover starlet. Some industry rumors claimed her retirement was caused by an injury suffered during an anal sex shoot, although this has never been confirmed.
Lauryl was a ferocious, beautiful blonde, who was a true scene stealer. Laurel Canyon was an absolutely scorching sexual performer who could outlast even the most energetic of studs with her insatiable carnal and sexual hunger.