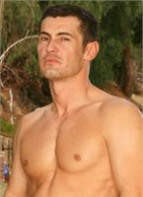 Jay Lassiter
Alias: Kallinger Hurst, Horst, Johnny Montana,
About Jay Lassiter
Height: 5 ft. 10 in.
Weight: 179
Born: May 28
Zodiac Sign: Gemini
Jay Lassiter has a long line of films to his credit. Born in Austria, and having toured the industry from an international perspective, Jay wound up in the USA as a hot 26 year-old hunk. With a lean, classic look, he has been featured in more than 400 films across the globe under a host of aliases (i.e., Theo Whitteker, Jim Guiness, Austrian Horst, Horst Blackebauer, Joe Kallinka, Horst Kalinke, Joe Melly, Jò Magli, Jhonny Montana, Jonny Montana, Johnny Montana, Horst Bosch, Horst Kallinke, Theo White, Horst Kallinka, J. Lassiter, Kallinger Horst, Horst Kallinger, Johnny La Motta, Johnny Lomotta, Joe Kalinka, Sonny, Michael Damien, among others). At 5'-10", Jay's dark brown features endear him to audiences of all genres.
In a career that spans from 1994 to current (ostensibly), Jay Lassiter has a complete body of work, including Italian, German and American films. Working for nearly all of the most notable studio production houses, including Vivid, Hustler Video, Adam & Eve, Multi Media Verlag and Penthouse, Jay has left a trail of satisfied female co-stars as proof of his expressive prowess. Undoubtedly his work was his drawing card and a testament to his longevity, as the categories of his work included anal, gang bang, masturbation and other penetration scenes with females.