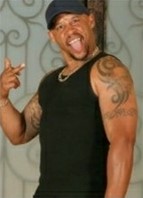 Devlin Weed
Alias: Weed, Weed, Devlin Weed
About Devlin Weed
Born: January 5
Zodiac Sign: Capricorn
With a nom-de-porn that points to his herbal off-camera pursuits, Devlin Weed has established himself as one of the real talents in black hardcore. Devlin's not the greatest looking guy in the world, according to xoominfo, and in fact you probably wouldn't look at him twice if you passed him by on the street. Of course, once he drops his pants you get a sense of what's kept him so busy in the industry. Devlin's got a massive tool and can perform on command, which are really the only two relevant skills in todays down and dirty adult business.
Devlin emerged from parts unknown and burst onto the hardcore scene in late 1994. He's never shown the slightest interest in acting, but seems to be a stud that's gotten into the business purely for the sex. Devlin's never happier than when he's peeling off the clothes of a fresh-faced newbie. With a reasonably good build and the willingness to do whatever it takes to drive a sex scene home, Devlin's made himself one of the most sought-after studs on the black video scene due to his voracious work rate.
For the most part, Devlin's work had been confined to the black hardcore realm...but not anymore! Fans of the genre know him as a stud who really brings out the best in his partners.
Devlin continues to churn out the hardcore, and has appeared in over 700+ features so far. Whether with a whole host of his homeboys or matched up one-on-one with a sultry sex kitten, Devlin's proven himself up to any amorous task.