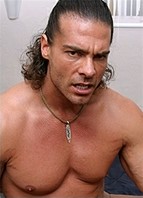 Nick Manning
Alias: Nick Manning
About Nick Manning
Eyes: Hazel Eyes
From: Chicago, Illinois
Born: May 28
Zodiac Sign: Gemini
Nick Manning Porn Star Biography
Nick Manning is a popular American adult film actor. He is known for his muscular body and ejaculation catchphrase, "Droppin' Loads!"
Early Life
Manning was born on May 28, 1967 in Chicago, Illinois. In high school and college he regularly played team baseball, and credits these days for teaching him the discipline of maintaining an athletic body. He attended the University of Chicago where he earned a bachelor's degree in International Business and Economics, and a master's in Human Resources Management. He also worked for a brief period of time on Wall Street. After tiring of the grind of these 9 to 5 jobs, he embarked on a career as a male model. He appeared in many successful advertising campaigns, and first stuck his toe in adult-themed entertainment when he appeared in a nude pictorial for Playgirl Magazine in 1997.
Career
Manning made his official porn debut in the 2000 film Mirage. He has since gone on to become one of the most well known male porn stars of his generation, appearing in 700+ films, as well as producing and directing. He became very recognizable to the common viewer by his prolific work output, his ad-libbed lines while performing, and his now famous catchphrase, "Droppin' Loads!", which he exclaims at the climax of every scene.
Other Work
Manning has made several appearances outside the world of adult films. He had a prominent role in the independent film Cherry Bomb, and also appeared in the major film Crank: High Voltage alongside action star Jason Statham. He and his catchphrase can be frequently heard via soundclip on the Howard Stern show (originally recorded during a well-known interview between Stern and the actor). In 2002, he recorded and released a country music single, "Early Grave", via iTunes.
Awards
2003 - AVN Award - Best Male Newcomer
2003 - NightMoves Award- Best Actor (Editor's Choice)
2014 - AVN Hall of Fame