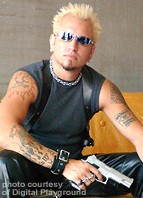 Barrett Blade
About Barrett Blade
Born: August 11
Zodiac Sign: Leo
A natural performer, Barrett Blade has found his way to center stage in every endeavor. After playing bass for Dial 7 at local L.A. area clubs, Barrett was scouted by acclaimed recording label Warner Brothers and his band was signed immediately.
Opening for acts like Foo Fighters, Incubus, Run DMC, System of a Down and No Doubt, Dial 7 began a national tour and Barrett started seeing cash for his efforts. His rock star status began opening the doors for girls too and Barrett found himself in pussy heaven. Barrett had a blast playing the field until he met super sex symbol, Devon. She knocked him off his feet and simultaneously introduced him to all the key players in the motion picture sex industry.
This relationship successfully launched Barrett's career in front of the camera, and landed him the supporting role in Digital Playground's
Devon: Stripped
, breaking new ground for men in the sex industry. He has since gone on to work for major companies such as Vivid , Wicked, and VCA, along with Directors Red Ezra, James Avalon and Andre Madness. Look for other titles such as Kink (Wicked), Island Fever 2 and No limits (Digital Playground).
Awards
2003 Nightmoves Award - Fan's Choice Best Actor
2005 AVN Award winner for Best Actor - (Video) - Loaded.
2007 Nightmoves Award - Fan's Choice Best Actor

Barrett Blade's Awards
Award
Year
Best Actor - Video
AVN
2005
Best Supporting Actor - Video
AVN
2008