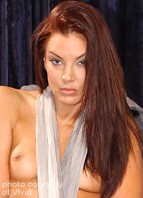 Dru Berrymore
About Dru Berrymore
Height: 5 ft. 7 in.
Weight: 120
Measurements: 34B - 24" - 34"
Eyes: Blue Eyes
From: Berlin, Germany
Born: August 11
Zodiac Sign: Leo
Dru Berrymore's Biography
Early years
Dru Berrymore grew up in Berlin, Germany and never would have guessed that she'd end up as a famous porn star when she grew up. She also never thought she'd move to the United States. In fact, Dru was among many Germans that mocked those that idolized Western culture and yearned to move state side. Of course, that all changed when she fell in love and followed her boyfriend across the ocean to live in California.
The Big Move
Dru moved to the U.S. in 1989 when she was 20 years old. She came over a few months after her boyfriend and was surprised to find that he'd spent all their money and she needed to begin working immediately. Having already done some mainstream modeling in Berlin, Dru began looking for similar work. What she found instead was nude modeling. She took the job and the rest, as they say, is history. She moved from modeling to adult films in no time, following the natural progression of models in the industry.
Career
Dru has worked in a variety of genres in adult film, and has had the opportunity to work with several big studios, including Private, Adam & Eve, Evil Angel, and Elegant Angel. She has worked extensively in the fetish realm, filming bondage scenes and dominatrix scenes, smoking scenes, and many more fetishistic materials. While she does not focus all her energy on the fetish genre, she has become known for her alternative work and is often sought after to do such material.
Other Interests
Dru tried her hand at mainstream movie roles, as well. In 1997 she had a small un-credited role in David Lynch's film "Lost Highway." She was also in "Die Hard 2" in a very small role that went mostly unnoticed. Over the course of her career in the entertainment industry, Dru has worn many hats, but not all have been strictly adult oriented. When asked, Dru refers to herself as a semi retired adult movie star, mainstream actress, model, director, producer, blogger, entertainer, animal activist, and yoga teacher. Her newest endeavor is writing. In an interview with Soul Magazine, Dru discussed her non-adult interests: "... I do not just do adult stuff. That's what I have been doing for over a decade, however, I believe that we need to evolve as human beings and so I've been back to school and learning for years. I've made my real estate license, my CDS, as well as my Yoga Instructor and my Reiki Master. I've learned about Vibrational Medicine and homeopathic healing as well as the benefits of therapeutic touch/massages and or movement and healing through yoga."
Dru continues to work in the adult realm, but on her own terms. She films scenes for her website and does only those things that she finds sexy and beautiful. There is no doubt that this German girl from Berlin has become one of the biggest porn stars in the industry and will continue to produce material that is visually stunning and erotically invigorating for years to come.
Awards
2004 AVN Award - Best Supporting Actress - "Heart of Darkness"
2004 AVN Award - Best Group Sex Scene - "Looking In"
2004 AVN Award - Best All-Girl Sex Scene - "Snakeskin"