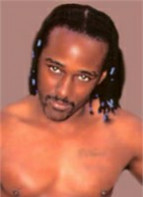 Tony Eveready
Alias: Tony Everready, Tony Everready
About Tony Eveready
Born: March 12
Zodiac Sign: Pisces
Tony Eveready's Porn Star Biography
Tony Eveready made his first professional porn appearance in 1994 in the movie "Black Gang Bangers 3." However, he had also made amateur films dating back to 1991. After performing in a string of black-themed porn videos, Eveready became known for his "gangsta" style. He is known as the "Gangsta of Porn" and "Thug of Porn," easily recognizable by his distinctive cornrow hairstyle. He has been in the porn industry for 2 decades and has appeared in more than 1000 movies and internet shorts. Notable roles include the best selling "Snoop Dogg's Doggystyle" and the internet video "1 Man DP."
Studios and Notable Films
aving such a long and prolific career, Eveready has worked with all the major studios, including Evasive Angles, Kick Ass Pictures, Candy Shop, Vivid, Red Light District, and many more. But his career in the entertainment industry was often much more exciting than the average porn star. Rapper Snoop Dogg cast Eveready in one of his most memorable roles. The "Thug of Porn" appeared in the documentary/hip hop music video/adult film "Snoop Dogg's Doggystyle" in 2001, and its blockbuster follow up, "Snoop Dogg's Hustlaz: Diary of a Pimp" in 2002.
Legal Woes and Comebacks
While Eveready was a successful porn star, trouble still managed to find him a few different times. Over the years he has served time for assault charges, possession, and possession of a firearm. Though he has been away from the industry on a couple of occasions, each time for a few years, he has always found his way back to performing when he was released. Eveready is a true porn star that cannot be kept from his chosen profession by a few roadblocks. We're sure to continue to see Tony Eveready for years to come, turning us on, making us laugh with his comical outbursts on set, and wowing us with his innovative moves.