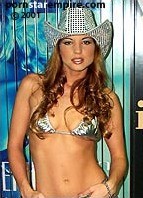 Temptress
Alias: Brook Shieldz, Brooke, Brooke Sheelds,
Interviews
---
Interview with Temptress - November 8, 2000
Phone Interview
Long, lean, erotic machine, Temptress emitted many a sigh and giggle for me during our late afternoon phone interview on 11/8/00. The statuesque beauty was unabashed in her analysis of her sexuality, her family and adult acting - what she terms as the best job there is. Here's a glimpse ... -
Read more...
---